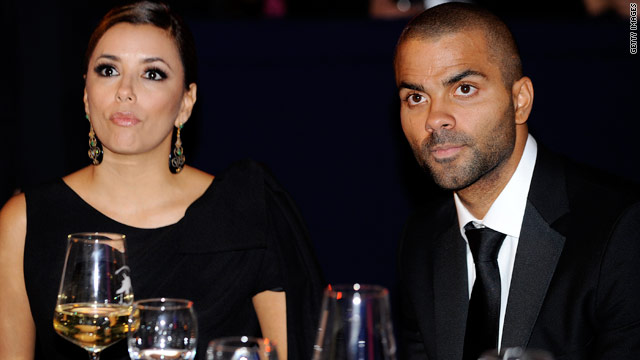 Yesterday's biggest news was Eva Longoria Parker and her husband Tony's alleged divorce.  It is now official (CNN 1).  Even though it seems like forever, they've only been married for three years.  Apparently he cheated on her.  Here are a few things that I've gathered that are of interest.
1. Tony Parker was 25 when he got married.  I'm 26 and I'm just now at the point where I'm 100% ready for marriage.  It's doubtful that a 25 year old professional athlete (from France) would be ready for a lifetime of commitment.
2. Longoria claims here that they were together for 7 years (CNN2).  If you do the math, that's 2003.  The problem is, her marraige to her first husband lasted from 2002-2004.  Does this mean she cheated on her first husband with Tony?  If so, she really can't complain when the same thing happened to her.  Note, by the way, that Parker was 21 and she was 28.  Again, red flags all around here.
3. According to the CNN article above
[S]he found "hundreds of text messages" from a woman on Parker's phone, and that this woman was revealed to be the wife of one of Parker's teammates. 

The "Desperate Housewives" star will also talk about Parker's infidelity early on in their marriage with another woman, one he kept in touch with via Facebook.
Third strike. Early on? How early could this have been? They've only been married three years!
Why do people presume that if a man cheats he won't do it again.  Is it possible? Yes.  But, if anything, there should be a presumption that he will do it again.  People that mess up need to feel some consequence for their actions.  Why do you think people rob banks until they get caught?  It's the same old story, just as Jenny Sanford what happened when she forgave Mark for having an affair.  That's why I don't believe in second chances (and nor should you).
As a man, I can tell you that many (dare I say most) expect for woman to forgive our indiscretions.  If women really want a man to be committed, they need to let them know early on that they will not tolerate cheating.  And if it happens, send a message by walking out the door.
Evan and Tony don't have any kids together and they are both young, successful, and attractive.  There's no reason why she should have stayed this long in the first place.